Your Ultimate Father's Day Gift Guide
This Father's Day, we want to celebrate the dads in our lives and show appreciation for all the things they've done for us. We know that every dad is unique in his own way and has different styles, tastes, and preferences. Here at Bynd Artisan, we've picked out 3 relatable types of dads and curated personalised gift guides for each one of them. Dads are definitely in for a treat this season!
The Workaholic Dad
The Workaholic Dad is constantly on his laptop and his phone, working tirelessly for the family during this period. Treat your hardworking dad to a variety of Bynd Artisan products that could probably help him become the most organised dad in the world.
Featured (from clockwise): Medium Valet Tray, Pencil Case, Leather Hand Sanitiser Holder Set, Writing Pad Holder
Other recommendations: Agenda Notebook, Classic Document Case, Leather Bifold, Pen Case

We recommend getting the Writing Pad Holder for your Workaholic Dad to file all his important documents and notes for his meetings in our sophisticated Writing Pad Holder. It is extremely versatile and convenient, with a pen sleeve, 2 side slots and an A4 lined writing pad for all your Workaholic Dad's needs.


After a hard day at work, treat your 
Workaholic Dad to a good meal at home 
from these restaurants:
Amò
offers original Italian food and drinks, inspired by authentic traditions and modern techniques.
amorestaurant.sg/delivery
Po
serves modern Singaporean favourites while paying tribute to local staples and Asian flavours.
po.oddle.me/en_SG
Quentin's Singapore serves authentic Eurasian dishes, with recipes passed down through generations. 
quentins.com.sg/collections/take-away-delivery
Salted and Hung serves contemporary Australian cuisine and specialises in house-made charcuterie and grilled meats.
saltedhung.oddle.me/en_SG
---
The Fashionista Dad
The Fashionista Dad always finds an opportunity to dress his best! Be it work attire, casual weekend attire or for a gathering with friends, dad is sure to be the best-dressed for any occasion! Style dad up with Bynd Artisan's wide range of bespoke products!
Featured (clockwise):
Money Clip
, Iridescent Card Holder, Jotter Enviro, 
Zip Pouch (M)
, Leather Hand Sanitiser Holder Set
Other recommendations: 
Duo Broad Card Holder
, Tote Bag, 
Zip Pouch (L)
Our 
Zip Pouch (M)
 will be perfect for your Fashionista Dad as he'll get to carry around his daily essentials in style without having to worry about the bulk. With more than 1 compartment for his items, it'll be a convenient accessory for your stylish dad!
We recommend these restaurants for you 
and your Fashionista Dad to dine at home 
on Father's Day:
SPRMRKT
is a cultural-culinary brand that focuses on produce-driven cooking and thoughtful cafe menu selection.
e.sprmrkt.com.sg
Thevar
is a modern Indian grill restaurant and bar that showcases creative combinations of traditional Indian flavours. 
---
The Old School Dad
The Old-School Dad likes to do things the old fashioned way. Armed with pen and paper, Old-School Dad loves his stationery and is always ready to take down notes. Gift your dad Bynd Artisan's classic favourites and he will surely be delighted!
Featured (clockwise): Mini Photo Frame, Coin Pouch, Book Jacket Nbr 1, Note Card Set
Other recommendations: Leather Hand Sanitiser Holder Set, Journal A5, Places & Traces, The Letter J Supply Greeting Card

We recommend getting Book Jacket Nbr 1 for your dad! This leather book jacket is perfect for the Old-School Dad who finds joy in penning down his thoughts and ideas down on paper, as the holder is versatile with a pen loop and 2 card slots for all your dad's needs. It also fits a wide variety of Bynd Artisan products such as Agenda, Artist and Journal.


Surprise your Old School Dad with a good meal from these restaurants. As the old saying goes, the best way to a man's heart is through his tummy:
Iggy's is a one-michelin star restaurant and specialises in artful, modern European cuisine and fine wines.
iggys.com.sg/the-food-bank-iggys-takeout
Lokkee serves global Chinese cuisine and offers a witty and cheeky play on favourite Chinese recipes.
lokkee.com.sg 
Saveur offers French cuisine cooked with fresh ingredients since 2011.
shop.saveur.sg/en_SG
The Malayan Council is a charming halal restaurant that joins cultures across the dining table in celebration of a love for Malay and Asian flavours.
themalayancouncil.sg
---
In celebration of Father's Day, all orders from 2nd - 21st June will include an exclusive DADs For Life car decal & wristband! (*While stocks last) 5% of all our proceeds will go towards Centre for Fathering, a NPO founded to make a difference for a child's development through a dad's active involvement.

Here's wishing all Dads a Happy Father's Day!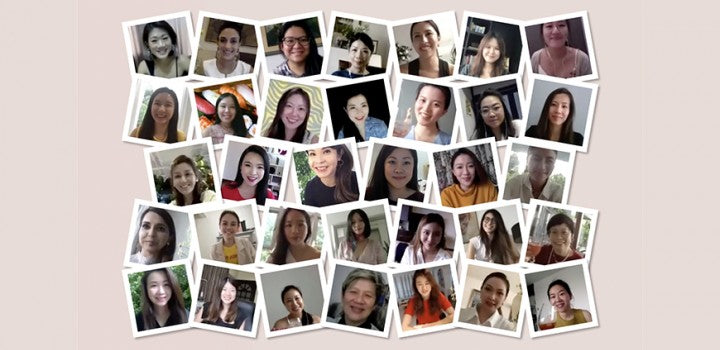 Community
  Navigating a new business landscape with Covid-19 and its legal implications Last Friday, we invited 35 entrepreneurs and professionals to gather for Bynd Artisan's Wonder Woman Zoom Forum to s...
Read more