My Beginnings With Teresa Lim
"My Beginnings" With Teresa Lim
Every journey has a beginning. For Teresa Lim, an illustrator and embroidery artist well-known by her Instagram moniker @teeteeheehee, her journey of motherhood began about 16 months ago when her baby girl — her first — was conceived. 
Noemi is now seven months old, and every day is a still new beginning for Teresa, who is learning much about herself, her baby, and their bond through the ups and the downs, the daily doses of fresh joys and challenges. 
Between a whole new territory of responsibilities and emotions, sleep-deficient days, and the constant re-assessment of how and how much of herself to devote to work, to her partner and other people in her life, time flies and cherished mother-and-baby moments are at risk of slipping by. 
"Every moment is so precious… I (want) to document everything to remember as much as I can," says Teresa.
Here, Teresa, who has been using the "My Beginnings" journal since she was pregnant for this reason, shares a few anecdotes from her pregnancy and motherhood journey, little great lessons she has learned so far, and the importance of documenting it all. 
One day, Noemi will flip through the sentimental pages of this book and see the love she has received through her mother's eyes. 
Hi Teresa, can you introduce yourself? 
Hello, I'm Teresa and I love drawing, embroidering and sewing things. I sell my creations as my online business. I'm also a mum full time to my seven-month-old baby girl. 
How old is Noemi? Can you tell us a little about her? 
She just turned seven months :) She's such a curious and happy baby who loves to make a lot of cute noises and smack things. 
How has motherhood been for you so far? 
Motherhood so far has lots of ups and downs. It's very enjoyable. I love waking up and seeing my baby smile when I come pick her up from her bed in the morning. I love hearing her laugh. I love cuddle time with her. Some days are filled with so much happiness, but there's also the other side of motherhood that I still struggle with. It's very tiring and challenging, and it opens up a whole Pandora's box of emotions that I never thought I'd have. But truly, seeing her laugh and smile makes all these tough times so worth it. :) 
What's one key thing you've learned through your journey as a mother in these seven months? 
Motherhood is full of lessons for myself. One major thing I've learned is to constantly re-assess what is important in my life. Being a mum now comes with much more added responsibilities. Every day, I need to choose what's truly important to devote my energy and time to. The key thing is learning that I only have so much to give, so learning to say "no" is very important. How much do I want to dedicate to work, to people, to my partner, to my child is entirely up to me, and I only want to give parts of myself to things that truly matter so I'll always have enough to give to Noemi. 
What would you say has been the greatest challenge of motherhood until now?
Without a doubt, the greatest challenge is sleep deprivation. I love my sleep. Before being a mum, I can sleep like 10 to 12 hours every day (haha!). But now, I'm happy with just five hours.
What made you purchase the "My Beginnings" baby journal? 
It was my first pregnancy, and I wanted to document everything to remember as much as I can. Every moment is so precious, and time flies so quickly!
How has "My Beginnings" helped you to document your journey from pregnancy to giving birth, and Noemi's milestones and growth? 
I like that there are prompts in the journal for each part of this precious journey. 
Do you have a favourite section(s)?
My favourite section is Your Arrival. This moment changed my life, and I'm glad I have something physical to remember and hold on to forever. 
How do you wish for this journal to be a part of Noemi's life as she grows?
The first year is a huge year of discovery for me as a mum and for little Noemi as she grows. It's the little things that you don't notice so obviously because you see her every day. But look at the difference in the size of her footprint in just two months! My plan is to keep this and give it to her one day when she's much older, so she knows how precious she is to us, and how much we love her.
__
"My Beginnings" is a meaningful baby journal created in 2020 in collaboration with obstetrician/gynaecologist Dr Ann Tan and Motherswork's founder Sharon. Get it here.
We'd like to thank Teresa for sharing her motherhood journey and how she uses "My Beginnings" to keep precious moments between her and Noemi. #byndartisan #somethingsworthsharing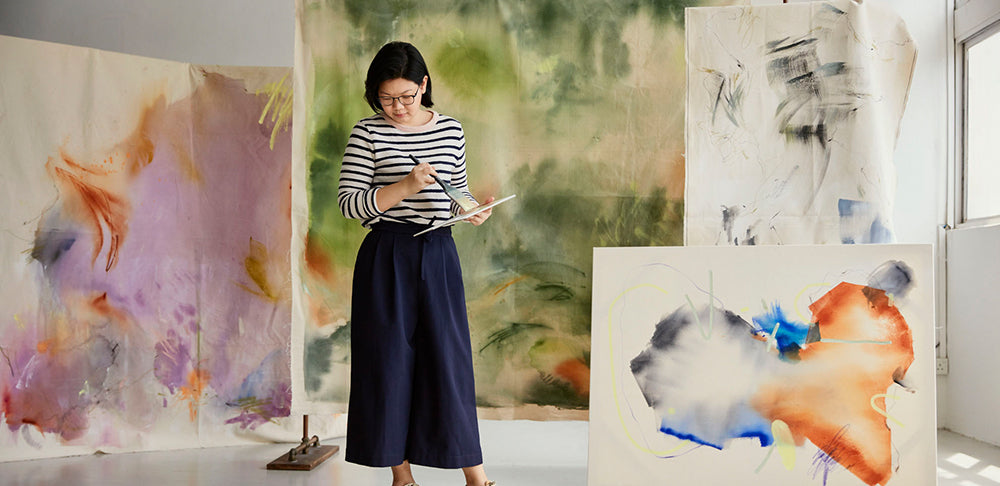 Collaboration
Positive Frame Of Mind A collaboration with the Letter J supply  It has been said that if you change your mind, you can change your whole life.It's all about mindset and the stories we tell ours...
Read more