Putting Pen To Paper: Kah Mun Chan
The Chronicle Notebook Series is an ode to special places that hold special memories, places that keep our stories, those told and those untold. A place is bound to change with time, as we do, but every story it witnesses remains — each memory becoming a part of its history, a part of its evolution, a part of its future.
With the launch of this unique collection, whose cover designs are inspired by four of Singapore's iconic historical sites — Clifford Pier, Fort Canning, Emerald Hill and Kent Ridge — we invited four individuals — an entrepreneur, a writer, a creative director and an artist to join our "Chronicle: Places and Traces" campaign to share cherished memories held in these spaces. They also talk about their love of paper, and how putting pen to paper has become an important part of their day and work, a ritual by which they process thoughts, feelings, creative ideas, make dreams happen and as a means of self-care.
Who:
Kah Mun Chan
@kahmy.kaye — Artist, Community Builder & Photographer/Creator of How Light Falls (also in the civil service)

Where:
Kent Ridge
A fortress used to defend Singapore during World War II; Agricultural low lands, the testimony of changing landscape

Please introduce yourself. What's your occupation? Can you walk us through your daily work routine?
Hello, I'm Kah Mun, an empathetic storyteller who loves capturing moments and cultivating connections. At work in a government agency, I help develop Singapore's vibrant retail industry by providing support to local brands and companies.

Outside of work, I dedicate myself to many creative ventures, such as my photography initiative, How Light Falls, the growing artist community, The Glass Hut, and as a local-experience advocate with Seek Sophie. 

My routine changes from day to day as I love keeping things exciting and pursuing new activities. What stays constant are comforting rituals like candle burning, night-time yoga, and of course, journalling by hand.
What significance does paper play in your daily life? How much do you put pen/pencil to paper, and for what purpose usually?
Paper is my first love! When I was young, I was always drawing and writing on paper — or walls.
I love the feeling of pencil on paper. When I was a student at School of the Arts, I put all sorts of mediums to paper to create images or poems. Now, I mainly write long to-do lists to help organise my day. My favourite self-care is journalling on the beach and listening to the waves crash onto shore as my feelings articulate themselves on paper.
I'd say I'm rather old-fashioned — one thing I will always hold special is a hand-written note. I have hand-written notes to friends and family all my life, so much so that I was inspired to create my own series of postcards with photographs I have taken, to encourage more people to hand-write letters to loved ones. 
How has it helped with your creativity, organisation, or thoughts? 
I am a very visual person, so it helps me greatly to pen my thoughts, be it brainstorming ideas or processing my deepest emotions. For example, while writing my Honours thesis at Yale NUS College, I wrote the main components down, and for weeks had sheets of A4 paper covering my floor as I scribbled new notes, re-arranged sections, and distilled new themes.
Other times, I write in notebooks as a feverish form of expressing emotions that I have barely begun to understand but need to get out, or as an outlet for ideas when inspiration hits during late-night insomnia. Lastly, I always bring a notebook or sketchbook when I travel, as I find myself extra inspired to journal my gratitude and capture the beautiful scenes of nature.
Share with us your thoughts and feelings on the Chronicle Notebook Series.
When I saw the notebooks in person for the first time, I was so impressed with the quality and the quietly mesmerising details. The way the cover glimmers and catches the light when you tilt it at different angles almost makes it feel like it is alive!
It was really interesting how Bynd Artisan distilled the essence and stories of the chosen places into a singular symbol and tiled it to create an original pattern. As a series, there is also wonderful variety between geometric lines and organic curves to suit all tastes. As a book, I love how the binding allows it to lay completely flat, which is most conducive for long writing sessions. I cannot wait to use it as my personal diary.
Do you have any fond memories of the featured locations?
Singapore has been my home all my life, so it is lovely to see a notebook series that's dedicated to its places and symbols. I do actually happen to have fond memories of all the featured locations!
Kent Ridge feels like an oasis amidst urban development. I enjoy walking The Southern Ridges trail with friends to appreciate the lush greens and view. However, my first memory of the area was a school trip to Reflections at Bukit Chandu. I remember being so struck by one distinct element in their exhibition which was both a creative play on its name "Reflections" and a stark reminder of the bravery, sacrifice and loyalty displayed there during WWII.
At Fort Canning, I have taken many a relaxing walk and enjoyed various performances. Emerald Hill is always a must-go when I host friends from abroad, and of course they love taking photos with all the gorgeous doors and colourful Peranakan tiles. Lastly, Clifford Pier is an iconic landmark along the Marina Bay circuit that I have walked and cycled around countless times.
---
Read more from
Dennis Cheok
,
Joan Chang
and
Karman Tse
.
We would like to thank Dennis, Joan, Kah Mun and Karman for joining us in this Chronicle: Places And Traces campaign to share the significance of putting pen to paper, and their memories of Singapore's historical landmarks.
#byndartisan #PlacesAndTraces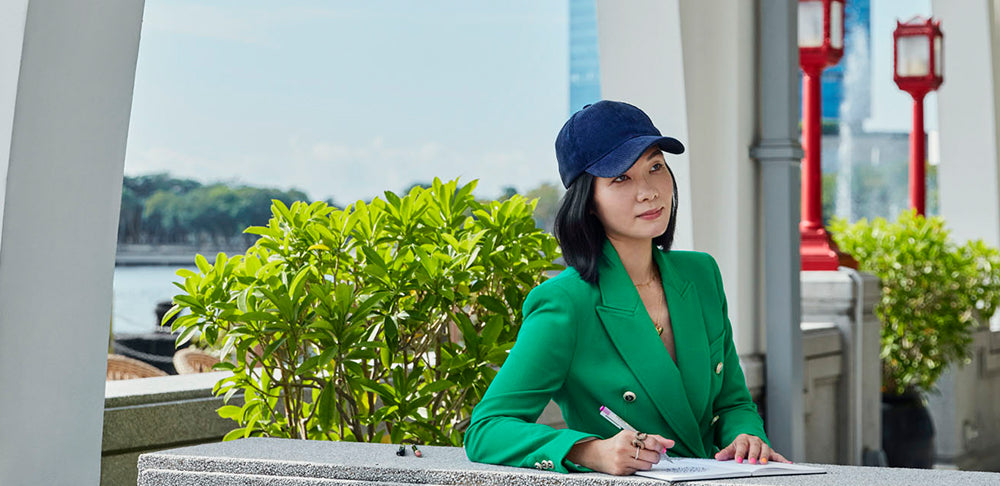 Community
Putting Pen To Paper: Karman Tse
The Chronicle Notebook Series is an ode to special places that hold special memories, places that keep our stories, those told and those untold. A place is bound to change with time, as we do, but ...
Read more